Hip hop dance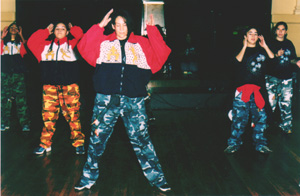 "STIRIN IT UP" captivated the attention of the audience right from the beginning with a fast moving hip hop dance from young koorie students from Winda-Mara Aboriginal Co-op Heywood, Swinburne University students, Northland Secondary College. The troupe were put together by Browyne Liddle especially for "STIRIN' IT UP."



Photos - Koorie Women Mean Business Collection 1997 - 2000.
The Board of Directors apologise for any discomfort caused by the images of deceased persons seen in the photographs.